Megan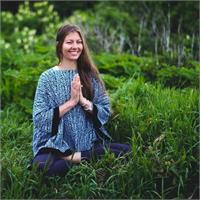 ERYT500, YACEP & Founder of Deha Yoga
Megan found yoga in college in 2003 and has been consistently practicing ever since. Her practice on the mat has been incredibly fulfilling in that it requires a constantly shifting perspective of the physical body. But it was her practice OFF the mat that guided her to open Deha Yoga in February of 2016. Megan received her 200-hour training in 2011 and completed her 300-hour training with Semperviva Yoga College in Vancouver, BC in early 2017. She gives gratitude to the many teachers that have helped inform her style: Bernie Clark's Yin Yoga, Judith Hanson Lasater's Restorative Yoga, Gurmukh and Gloria Latham's Kundalini Yoga, Adyashanti's True Meditation, Clara Roberts-Oss and Janet Stone's Vinyasa Yoga, Shelley Christopherson and Dr. Katy Komenda's Sanskrit for Yogis, Tiad and Surya Little's Prajna Yoga Style and so SO many more. Megan pulls on many styles, sources and lineages in her classes and requires much of her students – that they support their bodies, train their minds and connect to their own personal source of power. You will sing, dance, shake, cry, move, learn, settle, surrender, breathe, laugh and allow. Megan encourages you to be unconditionally curious in all that you do.
Megan instructs the following:
This class is a stress BUSTER. Each posture is typically held for 4-10 minutes and is completely supported by props. No stretching, no muscular stress, just sweet, mellow release. Recommended at least once a week for maximum benefits that extend into all aspects of your life. All levels, 75 degrees.




A 2-hour practice on Sunday mornings dedicated to the union of self with spirit. Arrive with an open mind in order to fully immerse yourself in the beauty of yoga– chanting, meditation, energy work, pranayama, physical movement, yoga philosophy… nothing is off-limits in this powerful practice. At least a year of regular practice is recommended before attending this class. 80 degrees.

Please note that beginning June 1, Sacred Sunday will be from 9:30-11am (just for the summer months!).




This is a practice that stays low to the floor, but works deep into the connective tissues, fascial networks and joint capsules of the body. Primary focus is placed on the pelvis. Postures are held for extended periods of time to allow for muscular release. Once muscles release, the deeper "yin" tissues of the body are able to receive the benefits of the posture. For many, this class provides a deep energetic release as well. Because Yin Yoga targets ligaments, bones and joints, it is not recommended for those working with an active or recent injury, or for women in their 3rd trimester of pregnancy. 75 degrees.




Savasana: Corpse Pose

A 30-minute deeply intentional rest. You have the option to stay upright, in a seated position (such as in meditation) or to recline on props for a more physically relaxing experience. You will be guided slowly into a deeper state of calm, emerging from this mini yogic "nap" with greater clarity of mind, more evenly distributed energy and a renewed zest for life!

A regular savasana practice can help alleviate anxiety, stress, depression, insomnia, gastrointestinal challenges and even skin conditions.

Please note that this class is limited to 12 students; please register online to save your spot!

-------------

Make your Monday evening even more intentional by staying afterwards for Megan's Yin Yoga class, which runs from 7:15-8:30pm.

*This is a Community Class, which means that the drop-in fee is $10 (instead of $20). Members, you may use your membership and Pass Holders, you may use your pass!




This is our introductory class. It's great for students that are new to yoga, those interested in sprucing up on alignment or for those recovering from an injury. This practice will help ALL yogis build a solid foundation and will prepare them to move into the Vinyasa classes, if they so choose. While this practice is alignment focused and moves slowly, you will still work hard! All levels, 75 degrees.




Join Megan for a kundalini yoga class on Christmas morning.

This class is open to all. No charge, but please bring at least 2 non-perishable food items for the Food Bank.

Please note that this class will be toasty (80 degrees) and will involve getting our heart rates up! All levels and abilities can attend as modifications will be given for every movement.

Class capacity is 33 students. Please save your spot online!