Megan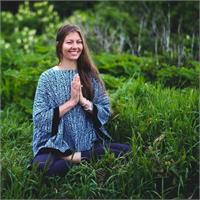 ERYT-200, RYT-500, Founder of Deha Yoga
Megan found yoga in college over a decade ago and has been consistently practicing ever since. Her practice on the mat has been incredibly fulfilling in that it requires a constantly shifting perspective of the physical body. But it was her practice OFF the mat that guided her to open Deha Yoga in February of 2016. Megan initially received her 200-hour training in 2011 and completed her 300-hour training with Semperviva Yoga College in Vancouver, BC in early 2017. She has attended numerous trainings around the country, is currently studying the Yoga Sutras, is enrolled in a 250-hour yoga history & philosophy program and is doing her personal work at the White Raven Center. She is humbled daily by the incredible community of yogis that have supported, challenged and taught her how to be a better spiritual being. Megan requires much of her students – that they support their bodies, train their minds and connect to their own personal source of power. You will sing, dance, shake, cry, move, learn, settle, surrender, breathe, laugh and allow. Megan encourages you to be unconditionally curious in all that you do.
Megan instructs the following:
This is our introductory class. It's great for students that are new to yoga, those interested in sprucing up on alignment or for those recovering from an injury. This practice will help ALL yogis build a solid foundation and will prepare them to move into the Fusion classes. All levels, 75 degrees.




A vinyasa flow practice where we explore all the usual postures (sun salutes, the warriors, backbends, hip openers) in a fluid and creative way. This is a practice where you can lose yourself in the simple rhythm of linking breath with movement. All levels, but expect to move your body! 80 degrees.




This is a practice that stays low to the floor, but works deep into the connective tissues, fascial networks and joint capsules of the body. Primary focus is placed on the pelvis. Postures are held for extended periods of time to allow for muscular release. Once muscles release, the deeper "yin" tissues of the body are able to receive the benefits of the posture. Because Yin Yoga targets ligaments, bones and joints, it is not recommended for those working with an active or recent injury. For many, this class provides a deep energetic release as well. 75 degrees.




This class will explore a specific kundalini kriya set (as originally taught by Kundalini Master Yogi Bhajan), as well as a short warm-up series and a guided meditation. Expect to work, get warm and have the ultimate savasana! All levels, 75 degrees.




A 2-hour practice on Sunday mornings dedicated to the union of self with spirit. Arrive with an open mind in order to fully immerse yourself in the beauty of yoga– chanting, meditation, energy work, pranayama, physical movement, yoga philosophy… nothing is off-limits in this powerful practice. At least a year of regular practice is recommended before attending this class. 80 degrees.




This class combines restorative poses, breath awareness and guided meditation. Each posture is typically held for 4-10 minutes and is completely supported by props. No stretching, no muscular stress, just sweet, mellow release. This class is a stress BUSTER. Recommended at least once a week for maximum benefits that extend into all aspects of your life. All levels, 75 degrees.