Lidija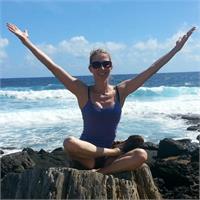 Lidija Poljacek-Umphenour, ERYT500, YACEP
What is a lawyer suppose to do when she moves to a new country with a different legal system? Become a yoga teacher of course.
Lidija came to yoga when she was looking for a dance studio in Anchorage. At first it was the Asana (postures) that drew her in. Then came the realization that yoga is so much more. However what really got her hooked is when she saw how yoga can change lives of people who are dealing with different challenges and difficulties. Her interest was in yoga with therapy modules and her quest brought her to San Diego where she studied at YogaWell Institute for Progressive Therapies. Her international travels as a journalist awarded her opportunities to teach not only in Anchorage but throughout the US. She has also taught classes and workshops in Slovenia, Germany, Poland and Croatia. Lidija loves to teach many styles: Therapeutic, Yoga for Warriors, Strong Hatha and Vinyasa, Gentle, Restorative, and Meditation. She says that yoga has something for everyone. Yoga, to her, is a never ending source and resource for a life well lived.
Lidija believes you are never to old or to young to do yoga and some day she hopes to teach yoga to astronauts heading to Mars. Because.... Yoga in space of course.
Lidija is currently not instructing any classes.