Joyce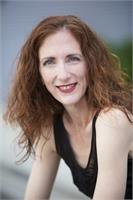 RYT200
Joyce has taken the long road to teaching, through a beginning practice 35 years ago, as an exhausted college student, in a dusty church attic in Harvard Square, years of dance (as a student and performer), Pilates, and multidisciplinary spiritual practice. Her academic experience includes a degree in molecular biology, with special studies in vertebrate development and structure. She is an adjunct professor in ballet at UAA Department of Theater and Dance, instructs ballet at Pulse Dance Studio, and teaches Pilates at Alaska Dance Theater. After years of parenthood, performance, and teaching, a return to active yoga practice provided a means of grounding her kinesthetic impulses in a consciously integrated technology, that is healing, joyful, and provokes endless exploration. She received her 200 hour teacher training through Anchorage Yoga, in 2014, and hopes to extend to her classes the opportunity to gather what they seek from the experience, and to be open to the possibility of the unexpected.
Joyce instructs the following:
Join us every Wednesday from 12-1pm for our $10 Yin Community Class!

Members may use their membership, pass-holders may use their passes and for those that just want to drop in to class, the fee is only $10 (instead of $20).

What is Yin?

This is a practice that stays low to the floor, but works deep into the connective tissues, fascial networks and joint capsules of the body. Primary focus is placed on the pelvis. Postures are held for extended periods of time to allow for muscular release. Once muscles release, the deeper "yin" tissues of the body are able to receive the benefits of the posture. For many, this class provides a deep energetic release as well. Because Yin Yoga targets ligaments, bones and joints, it is not recommended for those working with an active or recent injury, or for women in their 3rd trimester of pregnancy. 75 degrees.