Justine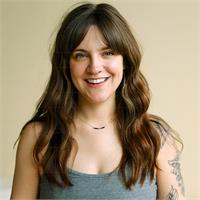 ERYT-200
Justine experienced her first taste of yoga over a decade ago, and after 5 years of falling in and out of a practice, she stepped whole-heartedly onto the path of yoga when she began to shift her perspective from a purely physical practice, to something that could be woven throughout all aspects of life. Her curiosity about the inner workings and determination to dissect the practice of yoga brought her to her first 200-hr training in 2015 through School Yoga Institute. Through consistent and devoted teaching since, exploratory personal practice, various healing modalities through White Raven Center, and an insatiable hunger to discover more about the human experience, she has found a teaching style that combines building a relationship with the body, mind, and spirit, and challenging ourselves to settle into the comforts and discomforts of the constant ebb and flow of life. She continues to educate herself on the synchronicity between the present moment and the natural cycles of life. Since stepping into Deha Yoga, she has expanded her offerings through various trainings, including Yoga Nidra, Chakra training with Anodea Judith, as well as Megan Piersma's Yin Yoga & Restorative Yoga Teacher Training. Megan has been deeply influential to the teacher Justine is today, and the opportunities and growth the studio and community has offered to her journey is irreplaceable. Her heart is truly present in all she teaches, as her inspiration comes from a desire to deeply connect and awaken to the truth of ourselves: that we are pure LIGHT!
Justine instructs the following:
A vinyasa flow practice where we explore all the usual postures (sun salutes, the warriors, backbends, hip openers) in a fluid and creative way. This is a practice where you can lose yourself in the simple rhythm of linking breath with movement. The level of the class will depend on the teacher and the needs of the students. You can always make classes easier or more challenging for yourself by following the teachers' cues for variations and modifications of the poses. 80 degrees.




This class is a stress BUSTER. Each posture is typically held for 4-10 minutes and is completely supported by props. No stretching, no muscular stress, just sweet, mellow release. Recommended at least once a week for maximum benefits that extend into all aspects of your life. All levels, 75 degrees.