Sarah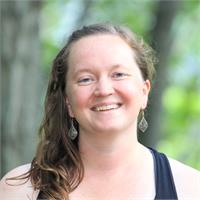 Sarah started yoga over 10 years ago in Colorado. After starting college, she missed her years of gymnastics and wanted to stay flexible, so she went to a yoga class and never looked back. Thankfully, yoga is much kinder to the joints! Many years after first planting the seed for becoming a yoga teacher, she received her 200-hour training from Anchorage Yoga in May of 2015. Through this training, she developed a deeper appreciation for all aspects of yoga, including those that extend beyond the poses.
Sarah loves incorporating fun balancing poses and creativity into her classes. Due to her public health background, she also enjoys learning about the anatomy and health benefits behind the yoga poses and bringing that knowledge into her classes. Aside from yoga, Sarah enjoys hiking and skiing and she can almost always be guaranteed to be reading a book!
Sarah instructs the following:
A vinyasa flow practice where we explore all the usual postures (sun salutes, the warriors, backbends, hip openers) in a fluid and creative way. This is a practice where you can lose yourself in the simple rhythm of linking breath with movement. All levels, but expect to move your body! 80 degrees.